Dimension:
L: 450 mm ; W: 450 mm ; H: 560 mm
Material:
Duco painted plywood with stainless steel frame. Using engineered soft-closing

Duco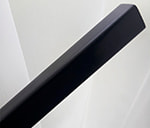 Steel Frame
Bordeaux night stand is a play of solid and hollow in a composition. Made from high quality plywood with simple shelf and drawer, this piece stands on light stainless steel frame base. Giving a floating impression.