Dimension:
D: 540 mm ; H: 515 mm
Material:
Black hand-finished steel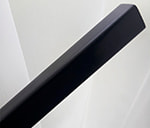 Steel
Urban look is about simplicity and industrial elements. Just like this night stand from New York Collection, simply made from black hand-finished steel. This lightweight structure consist of circular steel top, propped by three-legged steel frames. Simple and edgy!